Everyday Heroes
Past exhibition
4 SEPTEMBER – 1 NOVEMBER 2020
Across the Southbank Centre site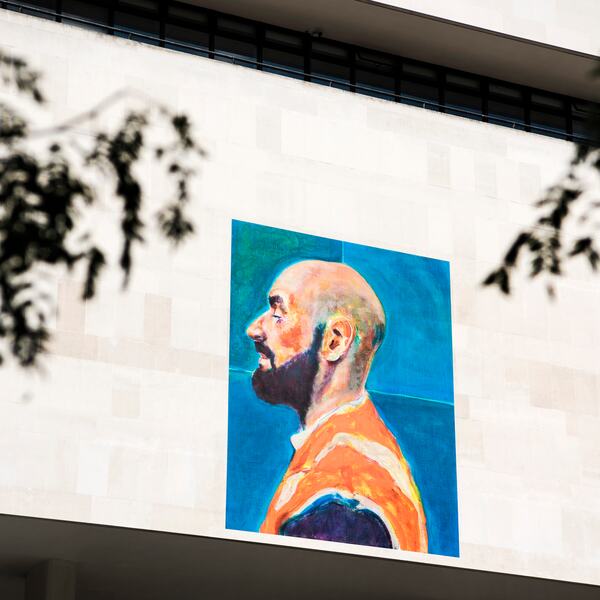 Celebrating key workers through art and poetry
The outdoor spaces around the Hayward Gallery and the Southbank Centre come alive with Everyday Heroes, a free open-air exhibition celebrating key workers in a vivid series of art and poetry commissions.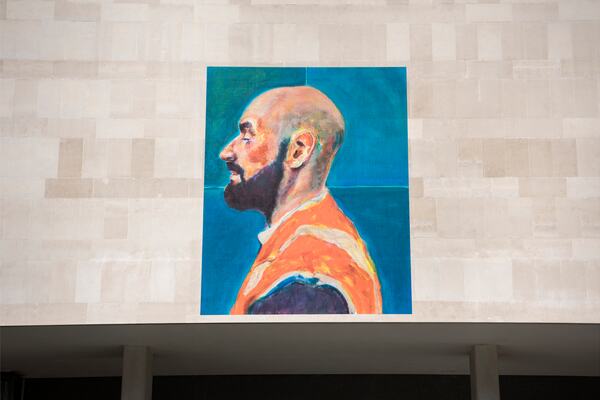 Ryan Mosley
Lives and works in Sheffield
My Brother Paul, 2020
Oil on linen on board
Ryan Mosley's painting depicts his brother Paul, a train driver who has continued to work throughout the pandemic. Paul is pictured in profile, his eyes lowered. The contrast between Paul's bright orange tabard and the blue tiles behind him enlivens the portrait's formal composition, and undercuts its sombre tone. Mosley's paintings usually feature fictional characters inspired by folklore, as well as by paintings in the National Gallery, where he used to work as a guard. 'I've always been interested in the idea of portraiture, and what can be considered a portrait', says the artist.

Janette Parris
Lives and works in London
Willow buys lunch in Cafe Spice, 2015/2020
Digital drawing
Lambeth-based artist Janette Parris made the digital drawing Willow buys lunch in Cafe Spice in 2015, as part of a commission to capture everyday life on Peckham High Street. Local resident Willow was a careworker at the time that Parris made the image, but due to underlying health conditions had to stop working during the lockdown. Parris recently updated this image for 2020, a time in which 'everyday life' on the high street includes wearing a face covering. Two further digital drawings by Parris – which feature a Deptford grocers, and fishmongers, respectively – are on display as part of Everyday Heroes.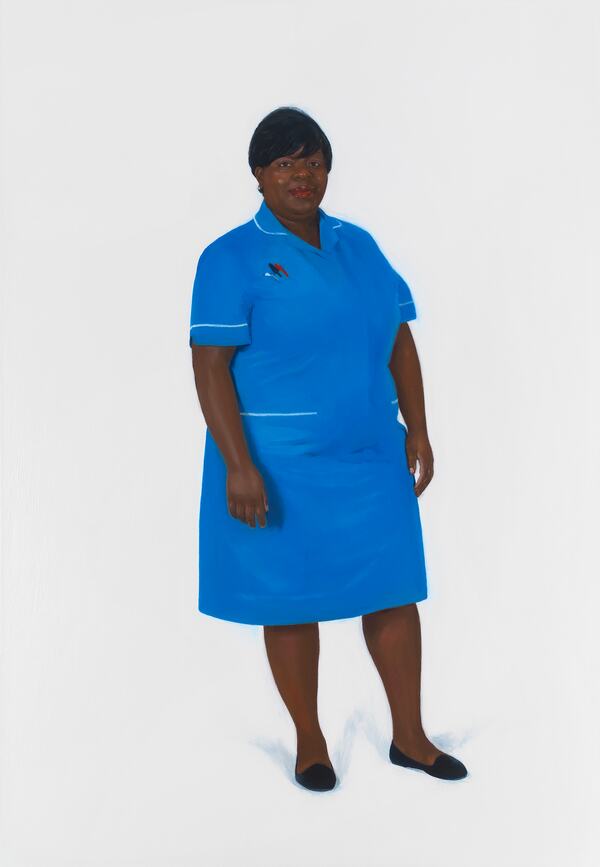 Alessandro Raho
Lives and works in Hastings
Precious, 2020
Oil on canvas
This is a portrait of Precious, a family friend of Alessandro Raho, who works as a nurse at Conquest Hospital in Hastings, East Sussex. Precious has spoken about the fear and anxiety she experienced at work, brought about by spiralling coronavirus statistics. 'Being exposed to the virus was the biggest concern', she says, 'along with how I would protect my family'. Raho's full-body portraits – often painted in a photo-realist style against a white background – pay close attention to the subject's clothes and accessories, in this case Precious's bright blue nurse's uniform.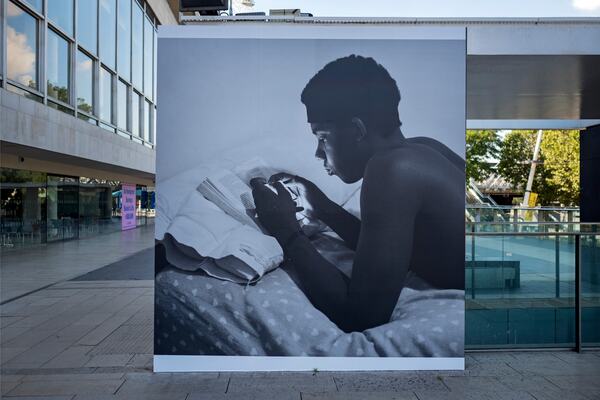 Silvia Rosi
Lives and works in London
Portrait of my mother during isolation, 2020
Photograph
Brother studying on phone, 2020
Photograph
During lockdown, Silvia Rosi began documenting her family's daily life, and new routines. In her photographs for Everyday Heroes, Rosi's mother prepares food in the kitchen, while her younger brother can be seen studying. 'My brother has been busy with distance learning since mid-March', Rosi comments. 'He has been struggling to concentrate on his studies due to his dyslexia and being hyperactive.' Rosi often works in full colour. Her use of black-and-white for this series helps capture the sense of stillness and suspension that, for many of us, was part of the experience of lockdown.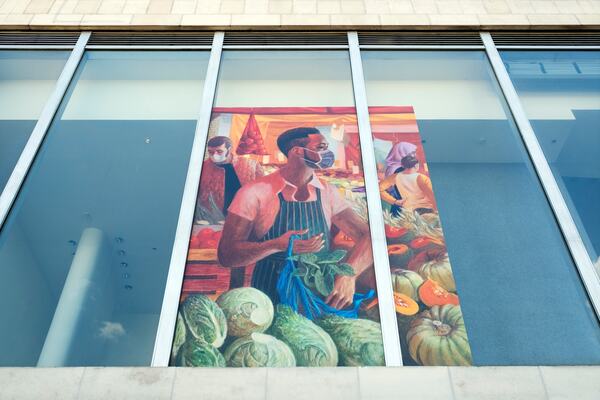 Benjamin Senior
Lives and works in London
The Grocery Stall, 2020
Egg tempera on cotton on plywood
The Grocery Stall is based on Benjamin Senior's local market in Croydon, south London. 'Grocery shopping took on a particular urgency early in the lockdown, when supplies were scarce, and the marketplace has been a focal point of our lives since.' Senior's paintings often pay close attention to pattern. 'I am interested in the visual impact of the market stalls and the awnings separating the scene into zones of coloured shade and the vegetables providing a feast of textures', he says.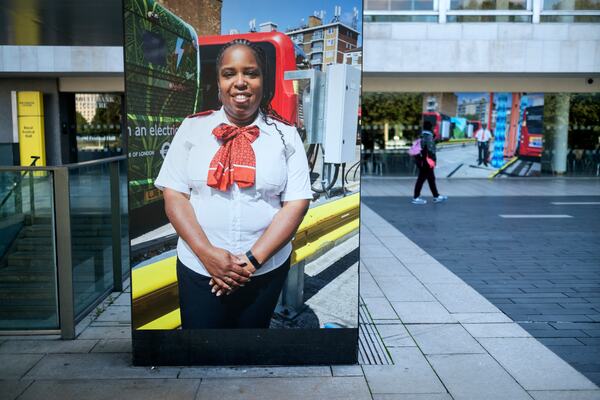 Juergen Teller
Lives and works in London
Natasha, London, 2020
Photograph
Stephen, London, 2020
Photograph
Natasha and Stephen are London bus drivers. Juergen Teller photographed them at Waterloo bus station, next door to Southbank Centre. 'Working on the frontline during the pandemic was definitely a challenging time, but I've never felt so proud doing the job I love', says Natasha. For Stephen it was also extremely challenging. 'But I was very proud to be able to participate in serving the nation', he says, 'I'm glad to have been able to play a part.'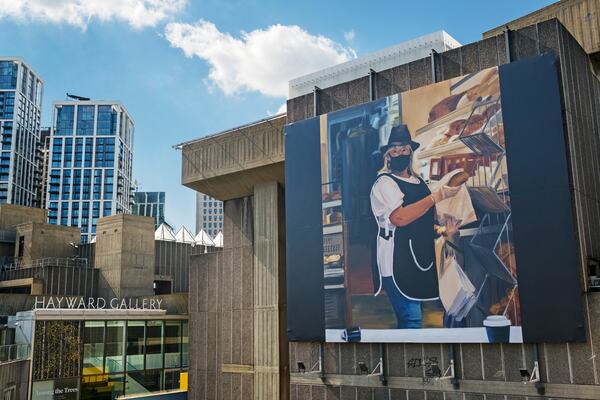 Caroline Walker
Lives and works in London
Elaine, 2020
Oil on linen
This is a portrait of Elaine, a shop assistant at Caroline Walker's local bakery, which stayed open throughout the lockdown. 'The bakery is a big feature of the local community', Walker says. 'In recent weeks they've had to adapt how they do business, serving from the door of the shop'. Walker's paintings often depict women at work in the service industries, in roles that are, as she puts it, 'largely taken for granted' or 'designed to be unseen'.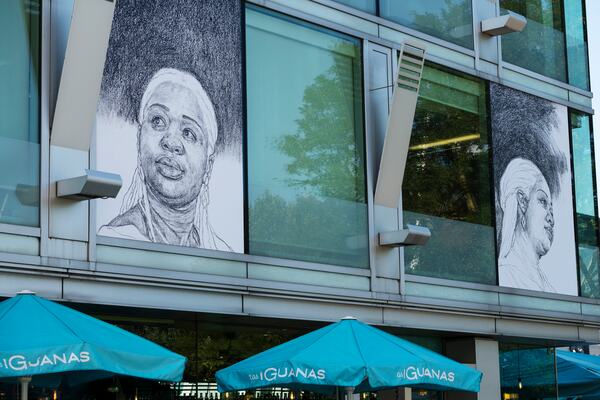 Barbara Walker
Lives and works in Birmingham
Attitude, 1998
Oil on canvas
Rosemary I & II, 2020
Charcoal on paper
Barbara Walker has three artworks on display as part of Everyday Heroes. Attitude (1998) is a portrait of Barbara Walker's daughter, who works for the NHS. With Walker's mother also having worked for the NHS, service to the nation's health is, for the artist, 'very much a family matter'. 'Frontline NHS staff are of course particularly vulnerable to coronavirus, and the susceptibility of ethnic minorities to the pandemic is sadly a matter of fact. My daughter bears witness to personal stories of surviving the virus. Not only surviving it, but immediately upon recovery, returning to frontline NHS duties.' 
 
Walker's charcoal drawings – Rosemary I and II (2020) – depict the artist's friend who works as a nurse. 'I wanted to capture the sense of quiet dedication, dignity and commitment that she, and indeed a great many other NHS workers, embody. Through the heavy tonal background I've used on two of them, the drawings evoke a sense of ominousness, which speaks both to the challenges that lie ahead as well as the times we are living through now. I was keen, however, to also convey a sense of the optimism that we all need to get ourselves through these difficult days.'