Grace Jones' Meltdown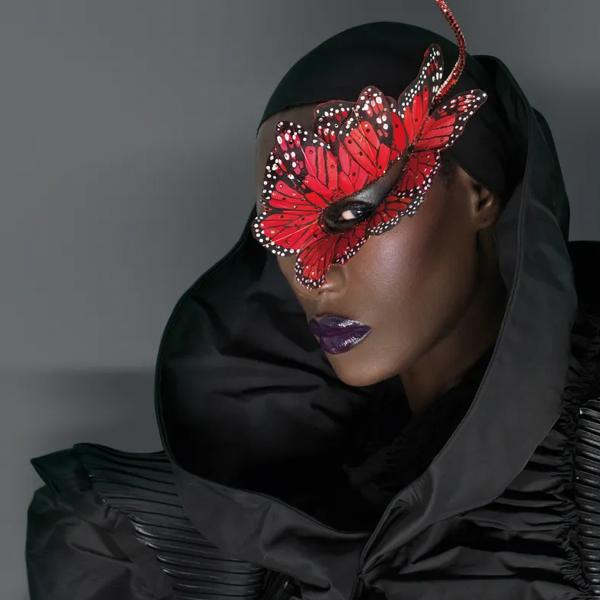 Grace Jones, international music, fashion and film icon, to curate Meltdown 2022
The 27th edition of the UK's longest-running artist-curated music festival. For her line-up, Jones brings together artists from across the globe, including Peaches, Skunk Anansie and Baaba Maal.
1993 George Benjamin
English classical composer and pianist George Benjamin was Meltdown's first ever curator. His 1993 festival brought together leading classical talent including performances from The London Philharmonic Orchestra, London Sinfonietta and Ensemble Modern.
1994 Louis Andriessen
For Meltdown's second edition, the festival went dutch at the hands of composer and pianist Louis Andriessen. Among a great array of classical talent to take to our various stages were Philip Glass, The Steve Martland Band, Gavin Bryars and Dutch chamber orchestra Asko Ensemble.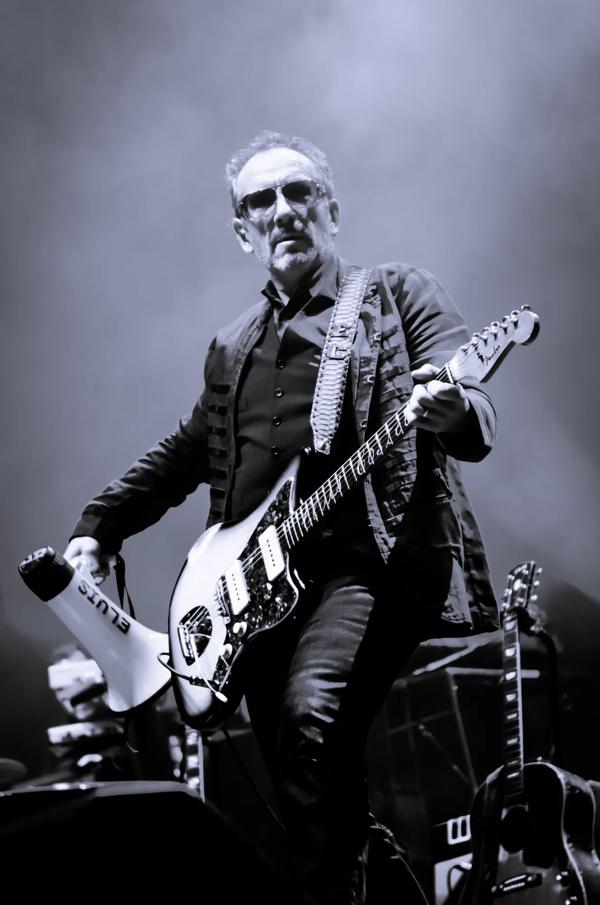 1995 Elvis Costello
The festival took a slightly more contemporary direction for its third edition. Curator Elvis Costello fused classical, jazz, folk and pop with the aid of Brodsky Quartet, Bill Frisell Trio, June Tabor, Steve Nieve, and, in what would sadly prove to be his last UK appearance, Jeff Buckley.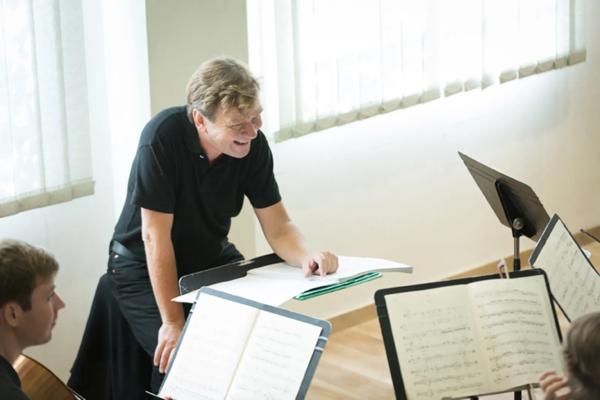 1996 Magnus Lindberg
For the fourth edition of Meltdown the festival returned to its classical roots as Finnish composer Magnus Lindberg took the helm. Lindberg brought sounds from his native Finland to Southbank Centre, courtesy of Varttina and rock band Leningrad Cowboys, as well as branching into film and score with a screening of Fritz Lang's Metropolis.
1997 Laurie Anderson
For the fifth Meltdown festival the reigns were handed to American avant-garde artist, musician and film director Laurie Anderson. Delivering the most contemporary edition of the festival to date Anderson's broad bill included Lou Reed, Arto Lindsay, Ken Nordine and DJ Scanner.
1998 John Peel
Respected DJ John Peel became the first non-musician to take the helm of Meltdown, and duly led the sixth edition of the festival down a very different path. Among the contemporary acts to play the festival were Cornershop, Damon Albarn, Sonic Youth and Spiritualized with Peel's Meltdown also including comedy from Ardal O'Hanlon and Jeremy Hardy.
1999 Nick Cave
For the seventh Meltdown, we welcomed multi-talented Australian musician Nick Cave to Southbank Centre. Like Peel, Cave delivered a much more contemporary Meltdown, with an eclectic bill that ranged from Barry Humphries to Nina Simone, via Faust, Gary Lucas and the photography of Polly Borland.
2000 Scott Walker
Distinctive in style and musical progression - from pop star to avant-garde musician - British-American singer-songwriter Scott Walker oversaw the eighth edition of Meltdown. Walker's transatlantic festival card included Blur, Jarvis Cocker, Radiohead, Elliot Smith and Smog as well as film from Swiss director Luc Bondy.
2001 Robert Wyatt
As Meltdown moved into the 21st Century now firmly established as a largely contemporary music festival, musician Robert Wyatt was called upon to curate its ninth edition. Wyatt's cross-generational bill included Dave Gilmour and Julie Tippetts, Elvis Costello and Wayne Horvitz, Gorky's Zygotic Mynci and Tricky.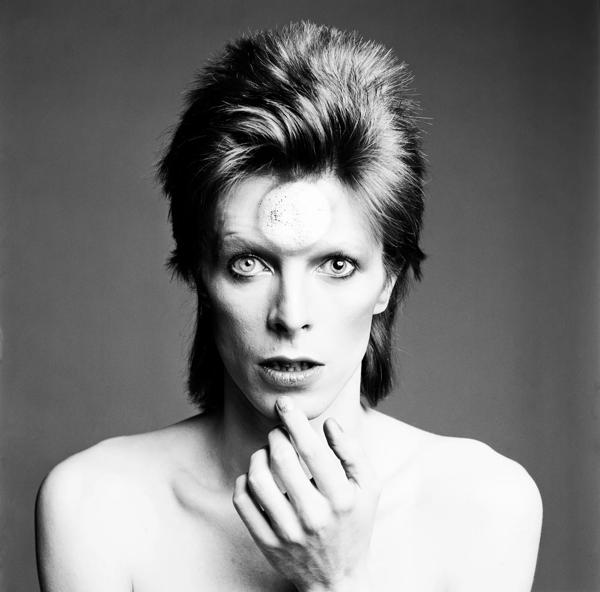 2002 David Bowie
No-one was likely to turn down an invitation to appear at David Bowie's Meltdown, leading to an impressively big hitting guitar-band heavy bill for the tenth edition of the festival. Coldplay, Badly Drawn Boy, Gonzales, Peaches, Suede, Supergrass, Television, The Polyphonic Spree, The Divine Comedy, and The Yeah Yeah Yeahs were among many to rock our stages.
2003 Lee 'Scratch' Perry
Jamaican producer and pioneer of dub, Lee 'Scratch' Perry headed up Meltdown's 11th incarnation. Perry's Meltdown included a cross-Atlantic mix with New York alt rock from Fun Lovin' Criminals, British indie from The Bees, Chicago synthesiser jazz from Sun Ra and British-Asian dancehall and ragga from Asian Dub Foundation.
2004 Morrissey
A mix of thoughtful, edgy and toe-tapping; Morrissey's Meltdown was very much in the spirit of the man himself. From readings by Alan Bennett, to a soulful performance from Nancy Sinatra; the London Sinfonietta playing Henryk Górecki and Arvo Pärt to fractious contemporary indie courtesy of The Ordinary Boys and The Libertines, the 12th edition of the festival painted broad strokes.
2005 Patti Smith
Singer songwriter and poet Patti Smith delivered a wide-ranging 13th Meltdown, which included two future curators - Anthony and the Johnsons and Yoko Ono - on the bill. The incredible array of solo performing talent included Beth Orton, Sinead O'Connor, Billy Bragg, Jeff Beck, John Cale and Martha Wainwright, complimented with poetry from Lemn Sissay.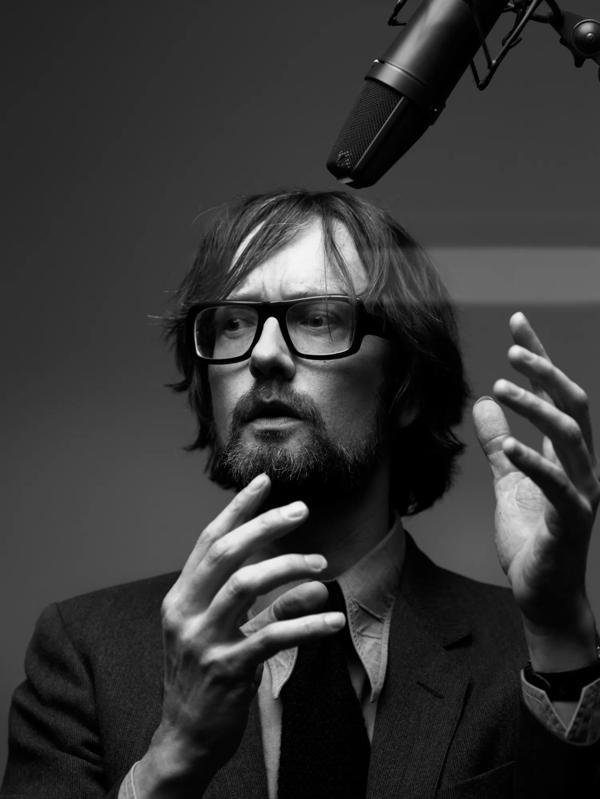 2007 Jarvis Cocker
After a year's break for refurbishment of Royal Festival Hall, Meltdown returned with Jarvis Cocker at the helm for the 14th edition. The Pulp frontman brought a heavy hitting line-up that included The Jesus and Mary Chain, Motorhead, and Iggy & The Stooges as well as the film scores of John Barry, and library musicians KPM Allstars.
2008 Massive Attack
Bristolian trip-hop superstars Massive Attack ran the show for the 15th Meltdown; serving up a riotous mix of old school - Grace Jones, Gang of Four and Stiff Little Fingers - and huge contemporary names, including Elbow, Fleet Foxes and Aloe Blacc.
2009 Ornette Coleman
As curator of the 16th Meltdown Ornette Coleman brought both past and future curators together, with Patti Smith (2005) and Robert Wyatt (2001) on a bill that also included Yoko Ono (2013) and the plastic Ono Band. Offering one of Meltdown's most eclectic line-ups, the celebrated jazz saxophonist also gave us Moby, Bobby McFerrin and Morocco's Master Musicians of Jajouka.
2010 Richard Thompson
Folk-rock singer, songwriter and guitarist Richard Thompson OBE was the curator for the 17th Meltdown, returning to the venue where he'd seen his first ever concert back in 1961. The former Fairport Convention guitarist delivered a stellar festival line-up that included Seasick Steve, Duckworth Lewis Method, Loudon Wainwright III, and past curator Elvis Costello.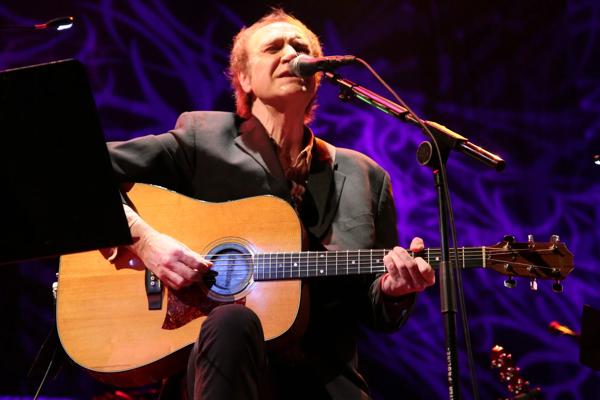 2011 Ray Davies
'My wish for Meltdown 2011 is that it will be a creative celebration through the decades. A bridge between past, present and future,' said Ray Davies, as he took control of the 18th edition of Meltdown festival. As well as music from Madness, John Otway, Nick Lowe, and Yo La Tengo, the former Kinks frontman delivered poets John Cooper-Clarke and Roger McGough as well as former Python funnymen Terry Jones and Michael Palin.
2012 Anohni
Then still known as Antony Hegarty of Antony and the Johnsons, Anohni said she wanted to explore the environment, spirituality and gender politics through her curation of the 19th Meltdown. The resulting bill included, amongst others, Lou Reed, Boy George, Marc Almond and Buffy Saint-Marie, plus a past curator in Laurie Anderson.
2013 Yoko Ono
'Deeply honoured' was Yoko Ono's reaction to being invited to curate the 20th Meltdown. The musician, artist, author and activist had appeared at two previous incarnations of the festival - in 2005 and 2009 - and told press that she wasn't 'pursuing big names for the sake of big names,' but despite this, her Meltdown still featured Siouxsie Sioux, Iggy Pop and The Stooges, Reggie Watts, Earl Slick and Patti Smith.
2014 James Lavelle
Musical and artistic innovator James Lavelle, whose genre-defying portfolio spans music, art, fashion, design and film, not to mention acclaimed musical collaborations, held the reigns for the 21st Meltdown. Lavelle's incredible bill included singing superstars Chrissy Hynde, Neneh Cherry, Edwyn Collins and Josh Homme as well as turntable titans Polar Bear, Grandmaster Flash and Scratch Perverts. Find out more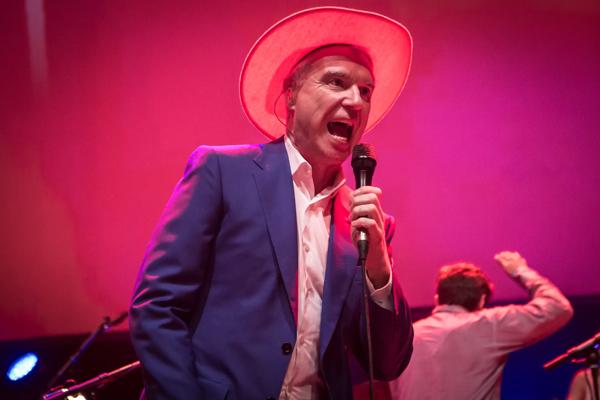 2015 David Byrne
Co-founder of the seminal new-wave band Talking Heads, and Oscar, Golden Globe and Obie award-winning musician David Byrne took over the 22nd Meltdown. Known for his eclectic collaborations Byrne didn't disappoint at Meltdown, with a varied bill including Anna Calvi, Hypnotic Brass Ensemble, Estrelle Morente, John Luther Adams and Atomic Bomb celebrating the music of WIlliam Onyeabor. Find out more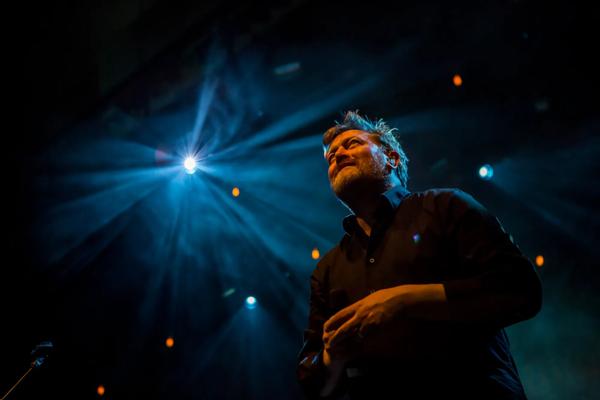 2016 Guy Garvey
The lead singer of the multi-award winning Elbow, 6Music DJ and established solo artist Guy Garvey was at the helm for our 23rd Meltdown. 'I want my Meltdown to be a party where everyone feels invited and everyone leaves having had the best night out,' said Garvey ahead of his festival. That 'night out' included performances from Richard Hawley, Femi Kuti, Laura Marling and the return of Lift to Experience. Find out more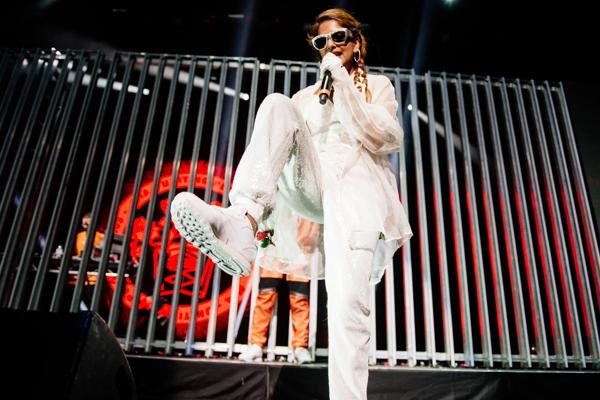 2017 M.I.A.
Rapper, producer, director and visual artist M.I.A. curated the 24th Meltdown, promising 'to bring together music's best forward thinkers', adding 'when music acts as inspiration, it's boundary-less'. Her festival certainly fitted that ethos, bringing grime from London and Paris in the form of Giggs and MHD to the Royal Festival Hall, as well as acclaimed acts Young Fathers, Soulwax, Crystal Castles and the upcoming stars Yung Lean and Princess Nokia. Find out more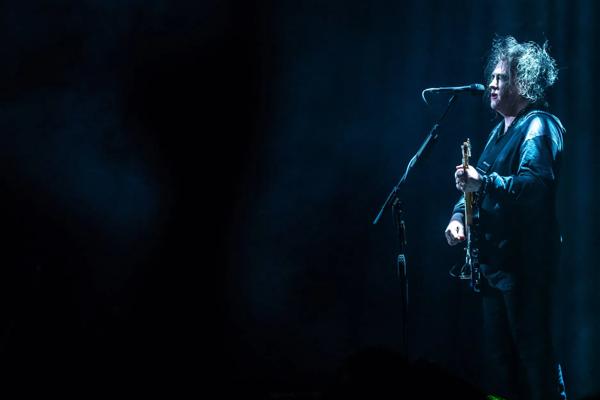 2018 Robert Smith
Lead singer and principal songwriter of one of popular music's defining bands, The Cure, was at the helm for the 25th return of Meltdown. His 'psychedelic puzzle' of a line-up included rock heavyweights Nine Inch Nails, My Bloody Valentine and Placebo, as well as a rare performance from the Libertines. Find out more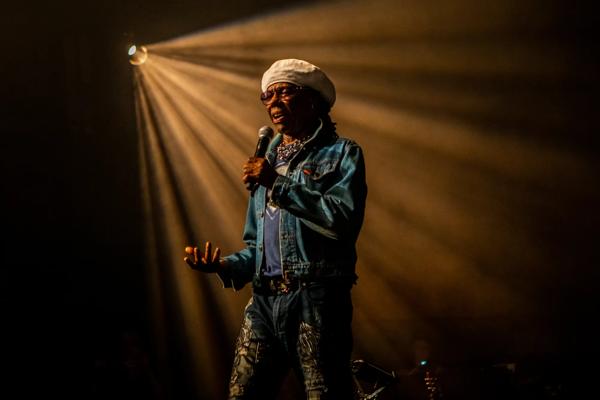 2019 Nile Rodgers
Producer, musician and sonic trendsetter Nile Rodgers curated the 26th Meltdown – packed full of exclusive collaborations, one-offs and unmissable nights. We submit to the surreal genius of bassist Thundercat, rocked out to the legendary guitarist Johnny Marr, heard blistering rock from Songhoy Blues and bathed in the lazing rhythms of neo-soul collective Jungle. Find out more